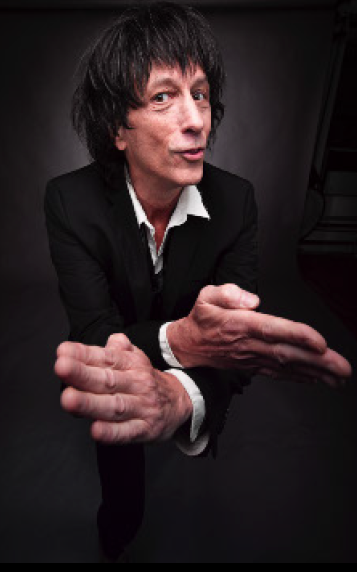 With the release of his latest album, MICKEY LEIGH is taking steps. A longtime figure in the influential downtown New York City music scene, MICKEY is no longer content with being in the shadows. He's stepping into the spotlight with 13 punk-pop-country-jazz and blues infused tracks that tell stories of colorful rock and roll lives. "These are 'The Stories That Never Got Told', so they never got old," states the lead off track. Of the heroine in "Little Cristine," MICKEY says "No. She ain't no ten. She's a number one." His modernized, "mutated" reworking of the classic civil rights/social-awakening song "If I Had A Hammer" boldly blares the powerful message calling for "justice, freedom and love between our brothers and our sisters" which is perfect for these troubled, frenetic and divisive times.
"My goal: to rescue rock n roll ... one song at a time" ~ Mickey Leigh
As he explained in his 2009 autobiographical family memoir "I Slept With Joey Ramone," MICKEY is inspired by his love of the music of the '60s. His life-long fever for rock & roll has never dampened, remains pure, and continues to fuel his drive to create great music.
MICKEY LEIGH'S MUTATED MUSIC
Brimming with tracks that have been called: "...instantly memorable, lyrically compelling, deceptively simple, hard-ass, life-loving songs full of emotional depth that deliver a punch far more intense than anyone could or would have expected...written with passion, played with precision, produced with perfection." MICKEYhas been credited with "...the power pop instincts of a Tom Petty and the street smarts of a Jim Carroll...not to mention a bit of The Who, Dylan, Springsteen and...Elvis."
Starting his first group at age 10 in 1965, hitting the stage of CBGB in 1977 with Birdland, the band he formed with literary legend/music journalist Lester Bangs, MICKEY is accustomed to having a front row seat at musical revolutions. Replacing Lester on vocals, Birdland morphed into the prototype pop/punk band The Rattlers. His next band, STOP, saw 5 songs from their 1996 album 'Never' in rotation on BBC Radio. MICKEY has continually been the recipient of favorable media coverage, credited with being "...one of those people who influenced successful bands but remained relatively unheralded himself." Well, that's about to change.
Initial videos for songs off MICKEY LEIGH'S MUTATED MUSIC are "Little Cristine" and "If I Had A Hammer." Please note that the "Hammer" video is a work in perpetual progress, as MICKEY and the band will be traveling to various US cities to add scenes, and is inviting fans, friends and family to come out at each location and become part of the video.
Joining MICKEY in MUTATED MUSIC are:
Drummer Pat Carpenter has been playing with Mickey for 26 years and in their last band STOP, toured the UK in support of their album "Never," performing live on BBC Radio;
Bassist Westley P. Crawford, with MICKEY, formed Crown The Good, a band that had a development deal with Epic Records in 1989. Westley has rejoined MICKEY to take MUTATED MUSIC on the road.
Album produced by Mickey Leigh. Recorded by Matt Chiaravalle and Tim Phillips at Mercy Sound, NYC, Mastered by Tim Phillips.
Mickey Leigh at Hammerstein Ballroom, NYC 2001 Photo by Maggie St.Thomas
Mickey Leigh and Bono (U2)